computing:windows_password_change
Table of Contents
How to change your password from a Windows computer
This only works if the computer being used is a member of the IBG Windows domain. Your computer is a member of the IBG Windows domain if the following are true:
Your computer is on-campus.

You press ctrl-alt-delete and see a login box similar to (it will look different on Vista):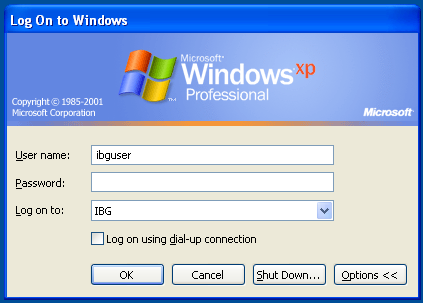 If your computer is not a member of the IBG Windows domain then follow the web based password change or command line password change instructions.
Login to Windows
First login to Windows as your normally do.
Choose a new password
Getting to the change password dialog
Press

ctrl-alt-delete

to bring up the Windows Security window:

Click the Change Password… button

Enter your current password into the Old Password: field

Enter your new password into the New Password: and Confirm New Password: fields
If a message appears saying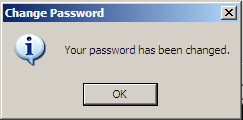 then your password has successfully been updated. Use your new password to login to your IBG Windows computer and for IBG e-mail and command line access. Press the Cancel button on the Windows Security window to return to Windows.
If a message comes up saying

then your password was entered wrong, or the username has been changed. The Old Password is the same as the one used to login to your Windows computer. Try again and verify that the username is correct and take care in entering your old password correctly.
computing/windows_password_change.txt · Last modified: 2008/12/01 15:52 by lessem