Table of Contents
IBG DATA ACCESS
Summary of Projects Housed on IBG Wiki
This graphic summarizes datasets and projects that can be found on this wiki. More information on each sample can be found on the individual project pages (after you have obtained wiki access).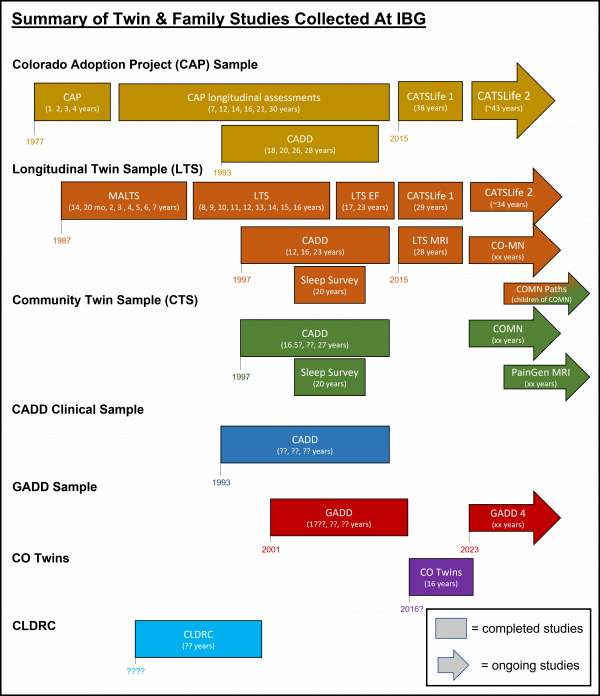 In order to gain access to IBG data documentation, you will need to sign a data access agreement (see below).
CLDRC (Colorado Learning Disabilities Research Center)

COMN (Colorado and Minnesota Twin Study of Marijuana Legalization) (not on wiki)

COMN Paths (ongoing - not on wiki)

MALTS (MacArthur Longitudinal Twin Study - see

LTS

)
Please see information below about obtaining wiki access.
Wiki/Data Access
Steps to Obtain Wiki Access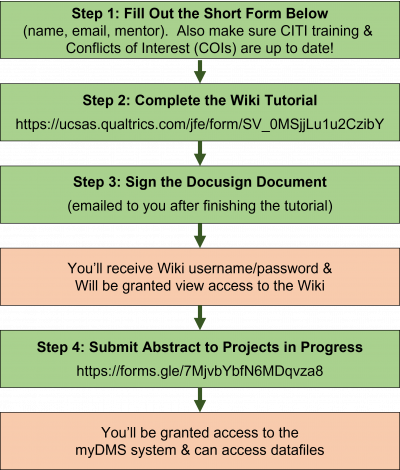 Please contact daniel.gustavson@colorado.edu if you are having any issues with this process or wiki/data access going forward
Step 1: Fill out this form
Step 2: Complete Wiki Tutorial
Step 3: Sign Docusign Document
You will be sent a Docusign document that needs to be completed. This includes the dates of your CITI completion and COI (Conflict of Interest) completion. If you have not completed these recently please do so. (CITI needs to be renewed every 3 years, and COI every year). Your mentor will also receive a copy that will need to be signed by them for us to proceed.
You will receive an email with your wiki username and password once the docusign has been accepted. Please check in with us if you have not received this email after 1 week.
Step 4: Submit an Abstract to Projects in Progress
Add your project using the form on the Projects in Progress page.
You will then be granted access to the data for the project(s) which you are researching, and will be sent a new password for the mydms data access.
Using the Wiki
Remember, you will need 3 logins/passwords to fully access data on the wiki:
The login for the Wiki page itself (which lets you view information about relevant studies; set up during Step 1)

The login for the myDMS portal (only used when you try to download data from the wiki; set up during Step 4)

A 3rd login that you will use when navigating from the Wiki to myDMS (also set up in Step 4). This 3rd login is by default set to your password for the Delta system at IBG (email jeff.lessem@colorado.edu if you don't know it)
Also feel free to reach out to daniel.gustavson@colorado.edu if you have any questions about this process!
Other Resources
Center Publication Policy
Submit a Publication to PUBMED