The color printer is a Dell 3000cn laserprinter. It is available for the use of all IBG faculty, students, employees, and guests.
In brief:
This is the easiest method for attaching to the IBG printers. It is recommended for all desktop Windows computers. However, this only works if the computer being used is a member of the IBG Windows domain. Your computer is a member of the IBG Windows domain if the following are true:
Your computer is on-campus.

You press ctrl-alt-delete and see a login box similar to (it will look different on Vista):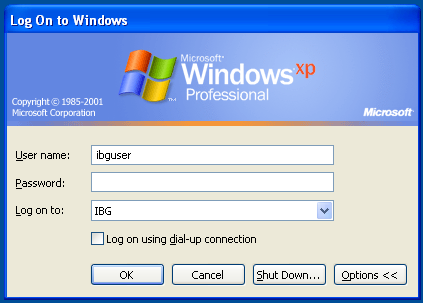 If your computer is not a member of the IBG Windows domain then follow the instructions under HTTP/CUPS.
Open a Windows Explorer (not Internet Explorer) window. This can be done by opening My Computer.

Right click on the 3000cn icon and select Connect and then Yes
Printing requires installation of the hpijs. driver. Follow the instructions on that page to install hpijs.
This method of connecting to the printer works from Mac, Windows, and Linux computers. It is the recommended method to use from Windows computers which are not members of the IBG domain.
Go to the Printers and Faxes control panel.

Select Add a printer which will start the Add Printer Wizard.

Click Next.

Select A network printer…

Click Next.

Select Connect to a printer on the Internet…

Enter http://delta.colorado.edu:631/printers/3000cn-raw into the URL field.

Click Next.

Select the Have Disk option.

Click the Browse button.

Browse to C:\dell\drivers\R166996\Win_x32\PCL\ and then click Open.

Click OK.

Select Dell Laser Printer 3000cn PCL6 and click OK.

Pick Yes or No to set this as the default printer and click Next.
Click on the apple menu and select System Preferences.

Star the Print & Fax tool.

Click the + button.

Click the IP button at the top.

Set the Protocol selector to Internet Printing Protocol - IPP.

Enter delta.colorado.edu into the Address field.

Enter printers/3000cn-raw into the Queue field.

Update the Name field to something descriptive, such as IBG Color printer

Set the Print Using selector to Select a driver to use.

Choose the HP Color LaserJet 5500 driver.

Click the Add button.